Have your car featured on the home page! Email and include a photo and history.
The GM G-Body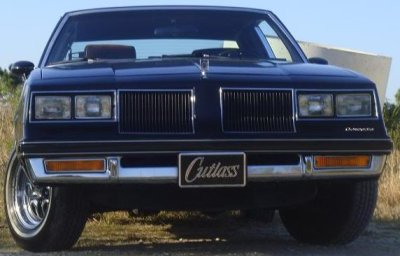 86CutlassUCF's 1986 Oldsmobile Cutlass Salon
Want your car featured on the site? Send an email to . Include at least one image and a brief description about the car, including any modifications you've done to it.
This site is devoted to the GM G-body cars produced from 1982-1988. Most car model designs remained unchanged from the 1981 model year. GM split off the G-body from the A-body line in 1982. The 1988 models (Cutlass, Monte Carlo) were cars remaining from the 1987 production year and just sold as 1988 models, with the Cutlass using the "Classic" name postfix.
Which cars are G-bodies?
The G-body cars include the Buick Regal/Grand National/GNX, Chevrolet Monte Carlo, Chevrolet El Camino, Chevrolet Malibu, GMC Caballero, Oldsmobile Cutlass (Supreme/Calais/Cruiser/Salon), Pontiac Grand Prix, the Pontiac Grand LeMans, and the Pontiac Bonneville.
The G-body cars were some of the most popular cars of the 1980s. Oldsmobile had record sales because of the Cutlass. The Chevy Monte Carlo SS was popularized by NASCAR. And the Buick GNX/GN/Turbo Regals were sought after by those searching for some of the fastest U.S. production cars at the time.
The G-body remains popular to this day. They are a great platform to build a high performance car and to restore. With the number of cars available, along with the numerous aftermarket vendors supplying everything from performance parts to body parts, it's no wonder why G-bodies are popular with many people.