Buick Regal/Turbo Buicks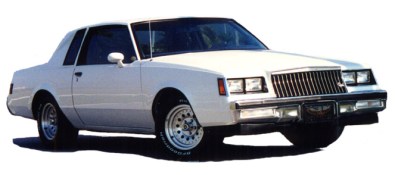 1983 Buick Regal
The Buick Regal was introduced by GM in 1973. In 1982, Buick first introduced the Regal Grand National, named after the Grand National NASCAR Winston Cup series. The 1982 Grand National was only offered in a two-tone paint scheme with a silver upper body and a charcoal gray lower body. It is the only year of Grand Nationals that wasn't all black.
The Turbo Regals of the 80s were some of the fastest U.S. production cars during their time. In fact, the Buick GNX was the fastest U.S. production car in 1987. Both the 1987 Grand National and GNX were faster than that year's Chevrolet Corvette, much to the chagrin of GM executives.
In the final production year (1987), GM offered the limited edition GNX. Only 547 were built and they retailed around $29,000. The GNX started off as a Buick Grand National and was modified by ASC/McLaren. Some of the GNX's modifications included a more efficient turbo charger, a bigger intercooler, a very low restriction exhaust system, an extra transmission oil cooler, and a ladder bar suspension.
The last Grand National was built on December 11, 1987 in Pontiac, MI.